What is a BUFF® Coolnet UV+?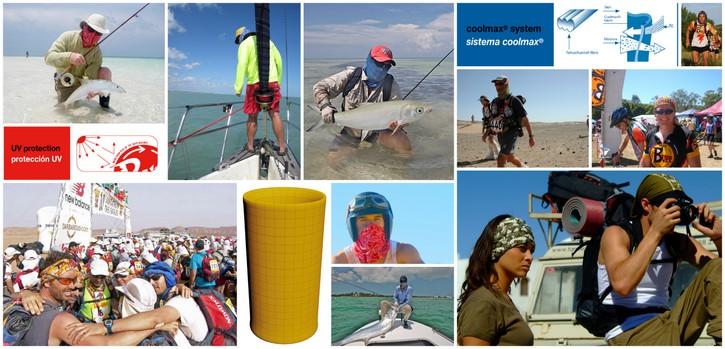 A BUFF® Coolnet UV+ is a tube of special, technical microfibre. It is the best Buff® for hot and sunny days. It was created to provide cooling in the heat.
It's sweat absorbing and wicking to keep you comfortable. It's sun protection rating is UPF50.
It's also anti-odour and anti-bacterial.
Fishing Pro's wear it as skin cancer protecting face mask.
Runners use this multifunctional headwear as neck cooler or sweatband.  MTB or road cyclist apply it as sweat wicking helmet liner.
Travellers and hikers use it as Bimini Cap, Hairband, Beanie or Sleeping Mask
A 53 cm long, knitted tube made out of high performance microfibre. Loaded with technical features for your comfort.
Designed for activities in the heat & sun & skin cancer protection
Best applied as neck cooler, face mask, sweatband, helmet liner or Bimini cap
Heat: High-end HeiQ Smart Temp cooling technology starts cooling you if your skin temperature goes over 30 degrees celcius
Sweat: Stay Dry – Stay Cool. Wicks your sweat away from the skin and uses it to cool you down
Sun/Skin Cancer: UPF50 gives you excellent sun-burn & skin cancer protection
Odour/Germs: Polygiene™ hospital grade anti-microbial technology keeps you odour free and stops germs from spreading around your face and mouth
Chill: HeiQ Smart Temp technology stops cooling as soon as you cool down. Fold it in layers to create a scarf, ear warmer or hat/beanie. Wear it single layer as face mask or balaclava
Wearing Restrictions: 4-Way, Ultra-stretch tech makes it the most flexible and comfortable tubular headwear currently available
Free of Harmful & Irritation substances – Oekotex® certified
Fits most adult heads (head circumference 53-62 cm)
Weighs 39 gr (1.376 oz)

It fits everybody with a head circumference between 53-62 cm. That's nearly every adult in Australia. 
Scarf
Neck Cooler
Face Mask
Sleeping Mask
Ear Warmer
Sweatband
Legionnaire Cap
Beanie
Helmet Liner
Balaclava
Hair Cover
Hair Band
Wrist Band
Cap
Alice Band
95% premium polyester microfibre
5% Elastan
HEIQ Smart Temp activated cooling technology applied to the inside of the tube
Wash at a maximum of 40 degrees celcius. We recommend in a delicates bag if machine washing.
Do not bleach
Do not iron
Do not dry clean
Do not tumble dry
We offer full support for our products. Just get in touch with us. Edward is happy to answer any question you might have and show you ways to wear that suit your personal circumstances with Whatsapp, Facetime, Messenger, Skype or Zoom video. He is using Buff® for over 20 years now.
You can choose between Australia Post standard or express delivery. Please find the current lead times right underneath the "Add to Cart" button.
We offer a 30 day return option starting from the date of delivery.
All our products come with an Australian 1-year product warranty.
You can also pick up here free of charge: 711 Ilkley Road, Tanawha, QLD 4556. Please give us a ring before driving out to us.