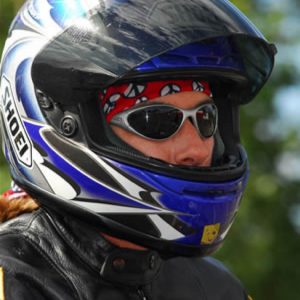 Have a helmet on for some time and it starts smelling.
Ever tried to get the pads out in order to clean the gunk that builds up?
The Original Buff® gets rid of Gunk and bad odour. It is anti-odour for a lifetime.
The technology applied is called Polygiene™. It's hospital grade technology and the best money can buy. It's also the only one that is non toxic and non-irritating.
Kath is a professional bike instructor, postie biker and drag racer. Her Harley is also her favourite means of transport. In this image she wears the Original Buff® as hair cover.
For full face helmets I recommend to wear the Original Buff® as helmet liner / balaclava. This way you keep all the pads clean.
Tutorials
Coming.
Recommended Designs
For all available Original Buff® designs click here.
Related Articles
Coming.
Image Details
Photographer: Unknown
Location: Brisbane, Queensland, Australia
Date taken: Unknown
Source: Kath Salotti. Received as part of a testimonial.
Copyright: Permission to use on our website.