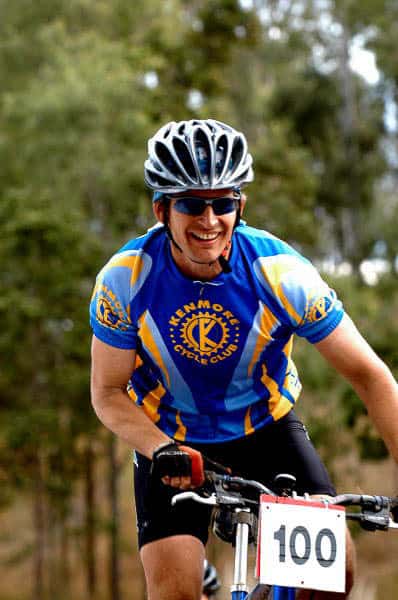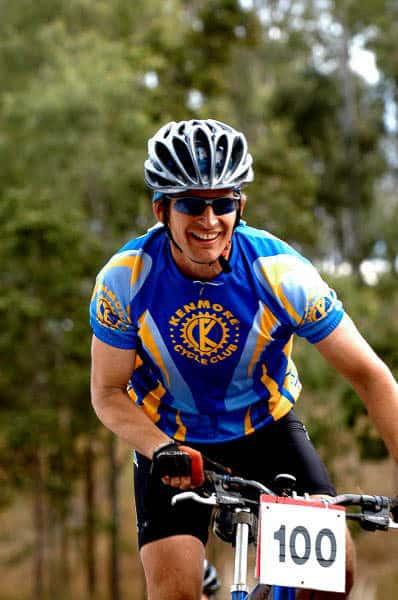 The image shows John from Kenmore Cycles during the 2004 Kooralbyne 24 hr MTB XC race.
He is wearing a Original Buff® as legionnaire cap under his helmet. This keeps the sweat out of his eyes and gives heat relief.
Today the High UV Buff® would be your preferred product for this situation. The High UV Buff® excels in handling sweat & heat.
Have a close look at his right ear. The top is covered by the Buff®. The majority of the ear is uncovered.
The ears are your coolers. Cover them completely and you get warm. Cover just the top and you get extra skin cancer protection with the High UV Buff®.
Tutorials
Coming.
Recommended Designs for keeping sweat out of your eyes
The darker the colour is the more the fabric evaporates sweat. Especially the Buff® Coolnet® fabrics cools more the darker the colour gets.
I find a mid blue tone like the Australia Flag Blue to be a good compromise. If you are a heavy sweater I recommend something darker.
For all available Buff® Coolnet® designs click here.
Related Articles
Coming.
Image Details
Photographer: Unknown
Location: Kooralbyne, Queensland, Australia
Date taken: 31/07/2004
Copyright: Received the images as part of being sponsors with the right to use commercially