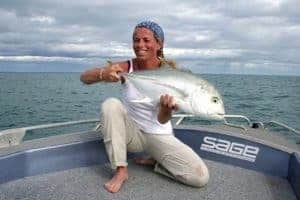 The sun bleaching your hair? The saltwater spray making it tacky? Try the High UV Buff® as hair cover.
This photo was taken in a hot & humid area. Around Weipa in far north Queensland. This is were the High UV Buff® excels.
"Fish" from weipaflyfish.com.au gave us this shot. He was the first fishing pro to contact us for the High UV Buff®. He, Gavin Platz & Peter Morse were the first pros to use and talk about the High UV Buff® in Australia.
A frontal landscape shot of a woman holding up her catch. She is wearing a High UV Buff® as hair cover.  The photo is taken in Far North Queensland so it is hot and humid. The boat is a professional fishing charter vessel. It looks as if she has been out fishing all day and is really happy about her catch.
Tutorials
Coming.
Recommend Designs
The design pictured is called Cashmere Blue. Blue is a great colour for UV absorbtion.
For all available High UV Buff® designs click here.
Related Articles
Coming.
Source: weipaflyfish.com.au