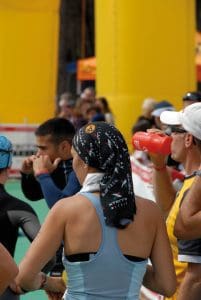 You're coming out of the water. Your hair is wet, and you're about to go for the cycle part.
You would love to:
have your hair out of your face & tamed
keep water from dripping in your eyes
dry your hair in a nice way
Why not put your hair from the beginning into a Buff® Coolnet®? Just like you see in the image. Use the Buff® Coolnet® as a hair cover. Even for the swim. Just put the hair cover on and the swimming cap over it. It feels so much better. This way:
your hair stays tamed during the entire race
the fabric handles the wetness & keeps it out of your face with superior moisture management
it dries your hair and gives you heat relief in the process with cooling performance
This image was taken during the 2007 Xterra Italy race in Orosei.
Tutorials
Coming.
Designs
The design is a custom made Xterra Italy 2007 Design.
You will find the Buff Coolnet® designs here
Related Articles
Coming.