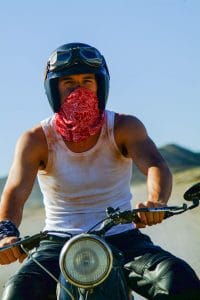 The sun is hitting your face and you have to keep your lips tight to keep the bugs out. This wasn't the experience you were hoping for.
Just take your High UV Buff® and wear it as face mask. Instant bliss.
Sunburned face? Gone with UPF 20 UV protection
Normal bandannas get soggy with your sweat? A High UV Buff® takes that moisture to cool you.
Other face masks slipping? A High UV Buff® stays were you put it. No matter how fast you go.
Other tubes loosening? The High UV Buff® keeps its tensions for years.
This photo was taken during a photo-shoot for the 2006 Buff® summer catalogue. A bit cheeky to wear only a singlet but I love the shot.
Tutorials
Coming.
Recommend Designs
Red is a good colour for UV protection and cooling. It also doesn't get dirty that quickly.
For all available High UV Buff® designs click here.
Related Articles
Coming.
Source: buff.eu