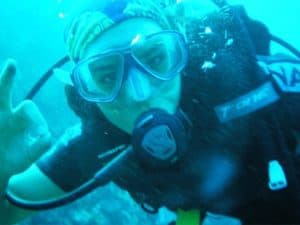 Your diving and your long hair is floating in your face. A neoprene cap isn't the solution with it's tight fit.
Why not use your Original Buff® as hair cover. It:
feels good even when wet
keeps your hair nice & tidy
What makes this possible is the extremely good moisture management. The better a fabric distributes moisture the less you feel it. For more info click here.
Tutorials
Coming.
Recommended designs for diving
Everything goes 🙂 I recommend some colour to brighten up the dull black neoprene. The design pictured is a custom design for sport event organiser ArocSport.
For all available Original Buff® designs click here.
Related Articles
Coming.
Image Details
Photographer: Unknown
Location: Unknown
Date taken: 17/09/2015
Copyright: Permission to use on our websites