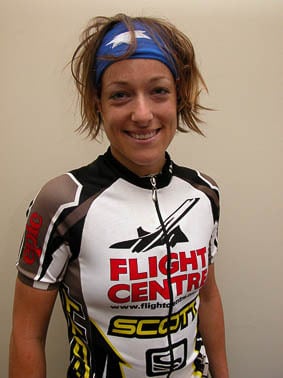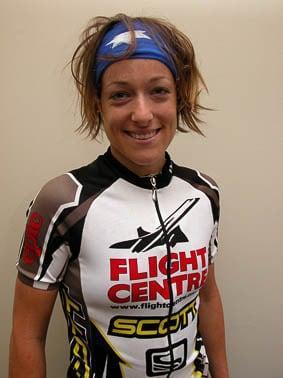 So you didn't wear your Buff® under the helmet and now you've got helmet hair.
At least you can tame it with a Original Buff® as alice band.
This is a classing example of not using your Buff® to it's full capabilities. Tory probably didn't know that the Original Buff® eliminates helmet hair with straight hair. All you have to do is wear it as hair cover under the helmet.
She received the Australia Flag Buff® in 2005 as a team accessory for a race in NZ.
Tutorials
Coming.
Designs
The Australia Flag design is a Australia-only custom design.
For all available Original Buff® designs click here.
Related Articles
Coming.
Photographer: Unknown
Copyright: Received the image as a "Thank-You" for providing the Flight Centre Scott MTB team with Australia Flag Buff®. Permission to use on our websites